Rowan Blanchard Facts:
Rowan is a Libra.
She loves "The Fault In Our Stars".
She is a fan of "Frozen".
She is in seventh grade.
She is the same age as her character Riley Matthews.
She is 5'5" (1.65 m)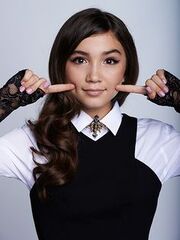 Favorite Books: Chasing Vermeer by Blue Balliet, So B. It by Sarah Weeks, and The Giver by Lois Lowry
F

avorite Colors: Blue and lavender
She is best friends with her co-star Sabrina Carpenter.
She is most likely to eat the most pancakes.
She has a sister and a brother.
She understands the father-daughter/teacher student dynamic between Cory and Riley because her dad taught P.E. classes at her school.
She was in lead vocals in Disney's Circle of Stars.
Her idol is Audrey Hepburn
She has watched every Boy Meets World episode ever.
Rowan loves pancakes.
She received a lot of hate in her cover of Adele's Someone Like You.
She thinks she looks like Audrey Hepburn.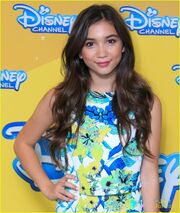 She and Sabrina are 2 years apart.
She has been bullied by fake friends.
She was bullied on twitter once. 
She is good friends with Davis Cleveland from "Shake It Up".
Rowan has a dog.
She can't go to sleep unless she reads lots of books.
She has done a "Who I Am" segment of Disney Channel.
Loves to read.
She has been a feminist since she was five when she was told she threw like a girl.
Rowan loves to eat chocolate and said it gives her joy.
She hated her eyebrows in sixth grade because all the other girls had thin eyebrows and hers were thick.
She likes frozen yogurt.
Rowan loved the movie Inside Out.
She recently got layers.
She enjoys watching Netflix.
Rowan always speaks her mind, and encourages her fans to do as well.
Rowan's favorite ship is Augva.
The Beatles are one of her favorite bands.
Rowan once prank called Corey on a livestream.
Besides Sabrina, Corey Fogelmanis is her best friend and has done the best friend tag with him on Teen Vogue's YouTube channel.
Rowan has a fear of spiders.
Her celebrity crush is Ansel Elgort.
Rowan has never plucked her eyebrows.
She loves Aubrey Hepburn and Emma Watson because they inspire her.
Rowan originally auditioned for the role of Maya Hart.
She's the most famous person with the name Rowan.
She doesn't like scary movies.
Rowan's favorite animals are giraffes.
Rowan's favorite Beatles song is 'Across the Universe'.
She loves Harry Potter.
Community content is available under
CC-BY-SA
unless otherwise noted.